Design with Confidence:
Introducing Karma Wireframe and UI Kits
With more than 1,000 wireframe blocks and 1,200 UI components, our fully customizable kits simplify your workflow and improve your designs.

Save time and enhance consistency
Introducing Karma's dynamic duo: Wireframe & UI Kits for Figma — Crafted to power your creative journey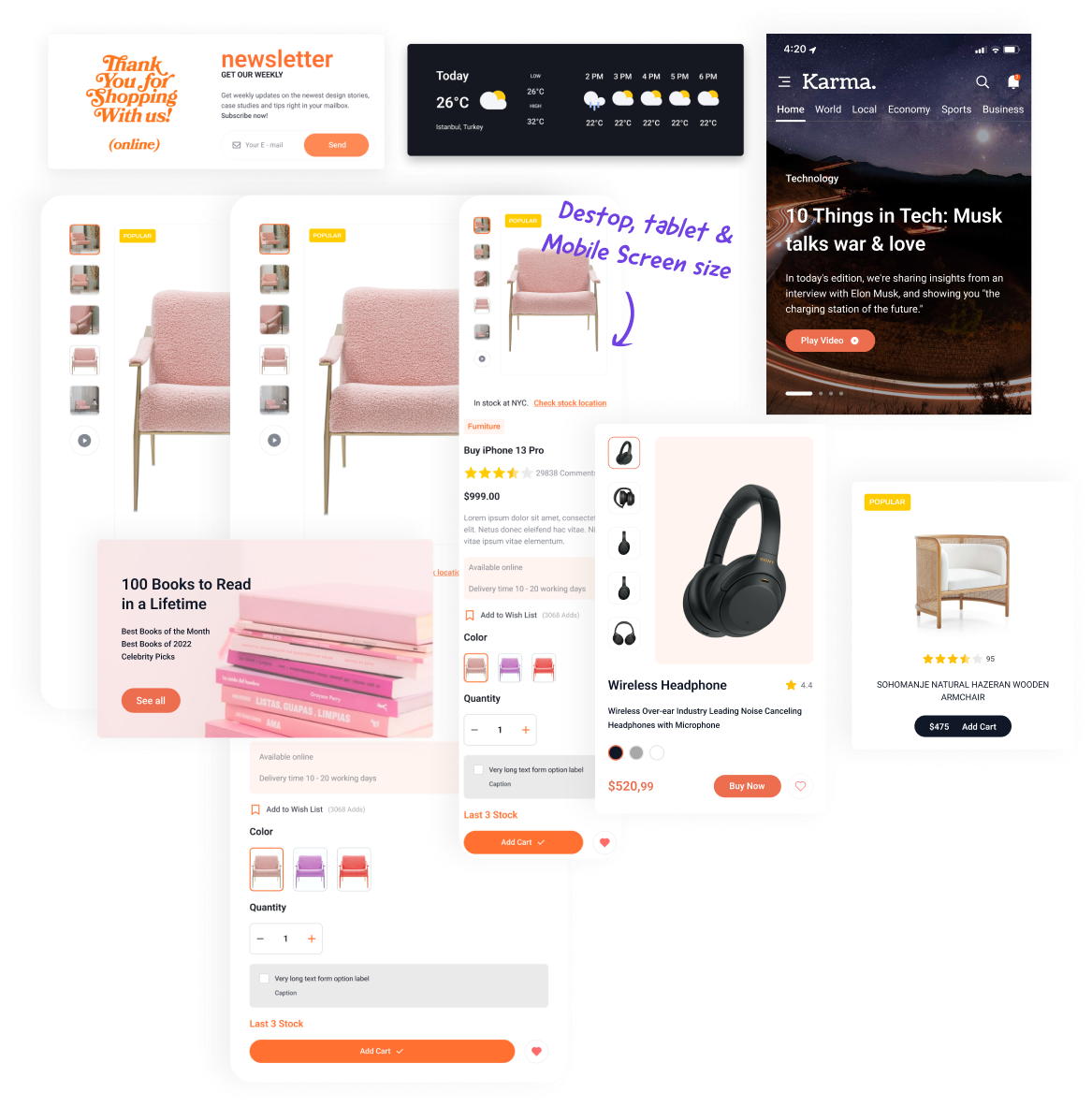 Karma UI Kit
Karma UI Kit: A comprehensive solution for effortless interface design
Bring your user interface designs to life with the Karma UI Kit, a versatile and powerful toolset crafted specifically for Figma. With over 1,200 meticulously designed components, the Karma UI Kit provides everything you need to create visually stunning and functional interfaces across various devices and platforms.
1,200+ UI Components: Adapt to fit any design.
Efficient Workflow: Save time and stay consistent.
Responsive Design: Look great on all devices.
Style Guide: Ensure visual harmony.
Organized Layers: Easy project navigation.
Regular Updates: Stay current with trends.
Premium Support: Expert assistance.
Versatile Usage: Suitable for all industries.
Karma Wireframe Kit
Karma Wireframe Kit: The ultimate foundation for your web projects
Lay the groundwork for exceptional web designs with the Karma Wireframe Kit, a collection of over 1,000 design blocks tailored for Figma users. The kit equips you with a vast array of pre-built elements, enabling you to easily create web and landing pages while ensuring a robust and cohesive structure.
141Navigations
144Headings
68Hero Banner
42Call to Action
86Features
96Forms
36Portfolio
66Footer
47Content
52Gallery
30Products
22Services
36Teams
28Logo Clouds
32Pricing
26Mobile Apps
42Contacts
30Testimonials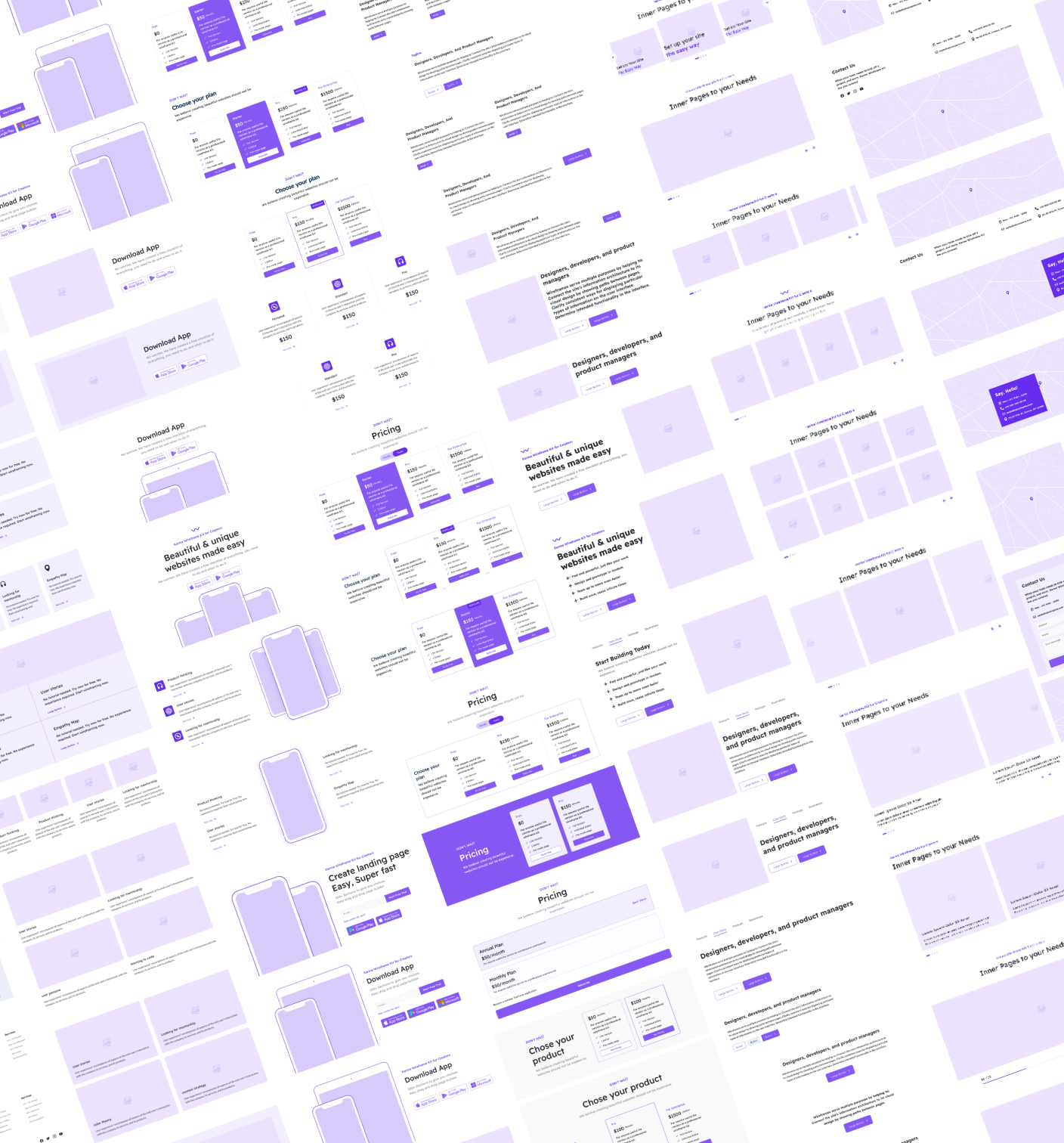 Karma provides a comprehensive design toolkit with wireframes and UI components,

streamlining the design process through an extensive library of pre-built elements for a seamless and consistent experience.
Select the Perfect Option for Your Design Needs
Find the ideal pricing option tailored to your design requirements. Whether you need wireframe, UI resources, or both, Karma has you covered. Take advantage of our affordable pricing and enhance your design projects with Karma.
Karma UI Kit
1,200+ Customizable UI Components
Efficient Workflow & Responsive Design
Comprehensive Style Guide & Organized Layers
Figma-Optimized & Regular Updates
Detailed Documentation & Premium Support
Versatile Usage Across Industries
Get the UI Kit
Karma Wireframe Kit
1,000+ Wireframe Design Blocks
Time-Saving Pre-built Components
Fully Customizable & Organized Structure
Figma-Friendly & Responsive Layouts
Comprehensive Library & Easy Prototyping
Free Updates & Premium Support
Get the Wireframe Kit
Best Price
Karma Bundle: Wireframe + UI Kit
All Features of Karma Wireframe Kit
All Features of Karma UI Kit
Complete Design Toolkit for Web & UI Projects
Seamless Integration & Consistency
Save $19 by Purchasing the Bundle
One-Time Payment & Lifetime Access
Get the Bundle
Unlock the power of Karma:

Streamline your design process and create stunning projects
Harness the benefits of Karma's comprehensive Wireframe and UI Kits to transform your design projects and bring your creative visions to life. Designed specifically for Figma users, Karma offers a versatile, powerful, and easy-to-use toolkit that enables you to focus on what truly matters: crafting exceptional web and UI designs.
© 2023 Saparda Inc. | All rights reserved
Other Products