Karma Wireframe Kit:

The Ultimate Foundation for Web Design

Discover the power of Karma's Wireframe Kit for Figma. Streamline your design process with 1,000+ pre-built components, ensuring rapid prototyping and outstanding results.

Bright & Dark Theme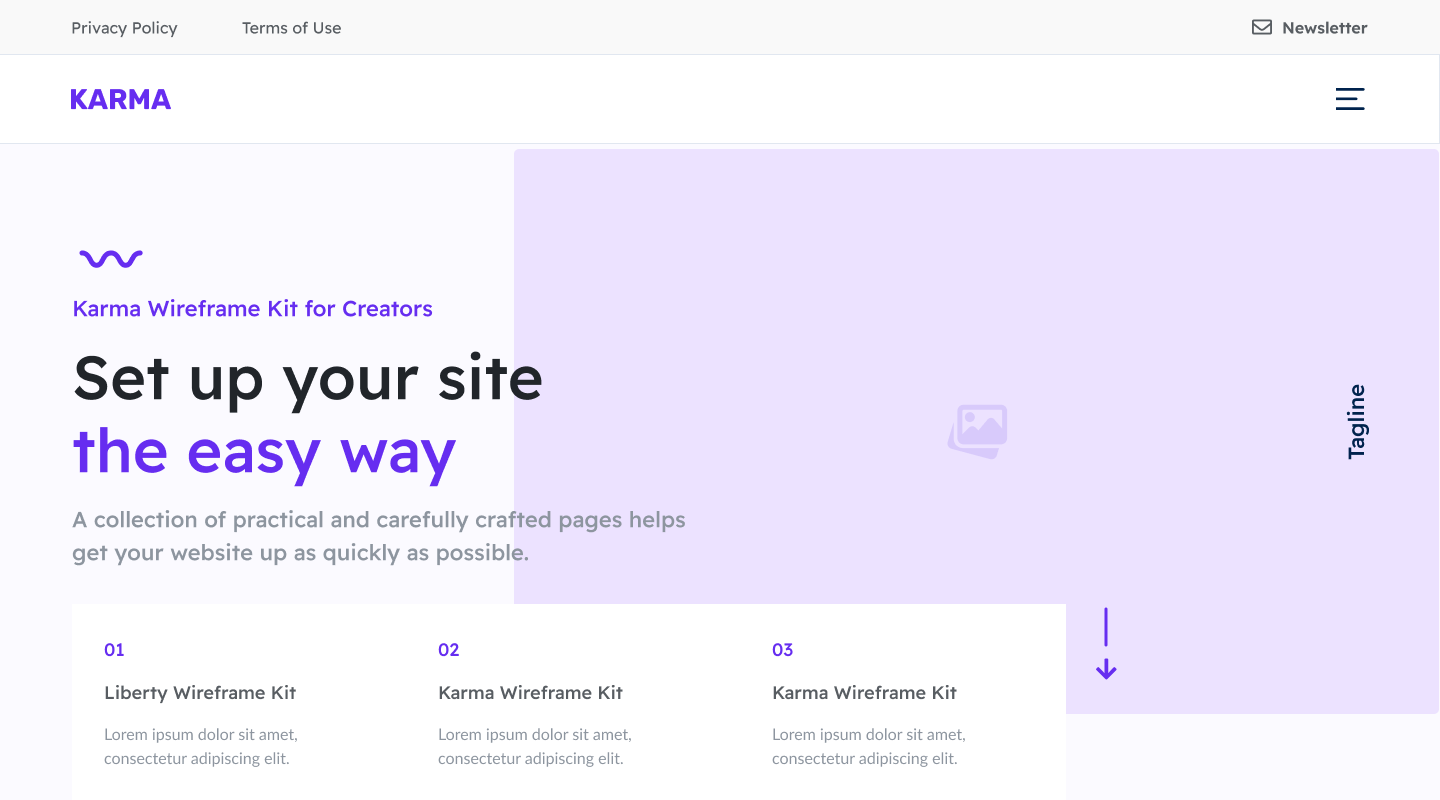 Streamline your design process
Why Choose Karma Wireframe Kit
Time-Saving Components
Access 1,000+ pre-built design blocks to accelerate your design workflow and enhance efficiency.
Figma Compatibility
Enjoy seamless integration with Figma, ensuring optimal performance and ease of use within your favorite design platform.
Fully Customizable
Tailor each design block to your specific needs and preferences, crafting unique and personalized web layouts.
Responsive Design
Create web designs that adapt effortlessly across different devices, providing a consistent and engaging user experience.
Comprehensive Library
Benefit from diverse design blocks, from navigation to testimonial sections, allowing for versatile and dynamic web layouts.
Streamlined Prototyping
Accelerate the prototyping process with ready-to-use components, enabling rapid iteration and efficient design testing.
Organized Structure
Navigate your projects easily thanks to a clean, well-structured, and carefully labeled organization of design blocks.
Collaboration-Friendly
Work effectively with your team using easy-to-share components, enhancing communication and teamwork within your design projects.
Scalable for Projects of All Sizes
Leverage Karma's Wireframe Kit for any project, from small startups to large enterprises, ensuring professional results regardless of scale.
1,000+ Components in 18 Thoughtfully Curated Categories
Discover the power of Karma Wireframe Kit's comprehensive library
Dive into Karma Wireframe Kit's 1,000+ components, meticulously organized into 18 categories, offering an unparalleled selection of design blocks to craft your perfect web layouts.
141Navigations
144Headings
68Hero Banner
42Call to Action
86Features
96Forms
36Portfolio
66Footer
47Content
52Gallery
30Products
22Services
36Teams
28Logo Clouds
32Pricing
26Mobile Apps
42Contacts
30Testimonials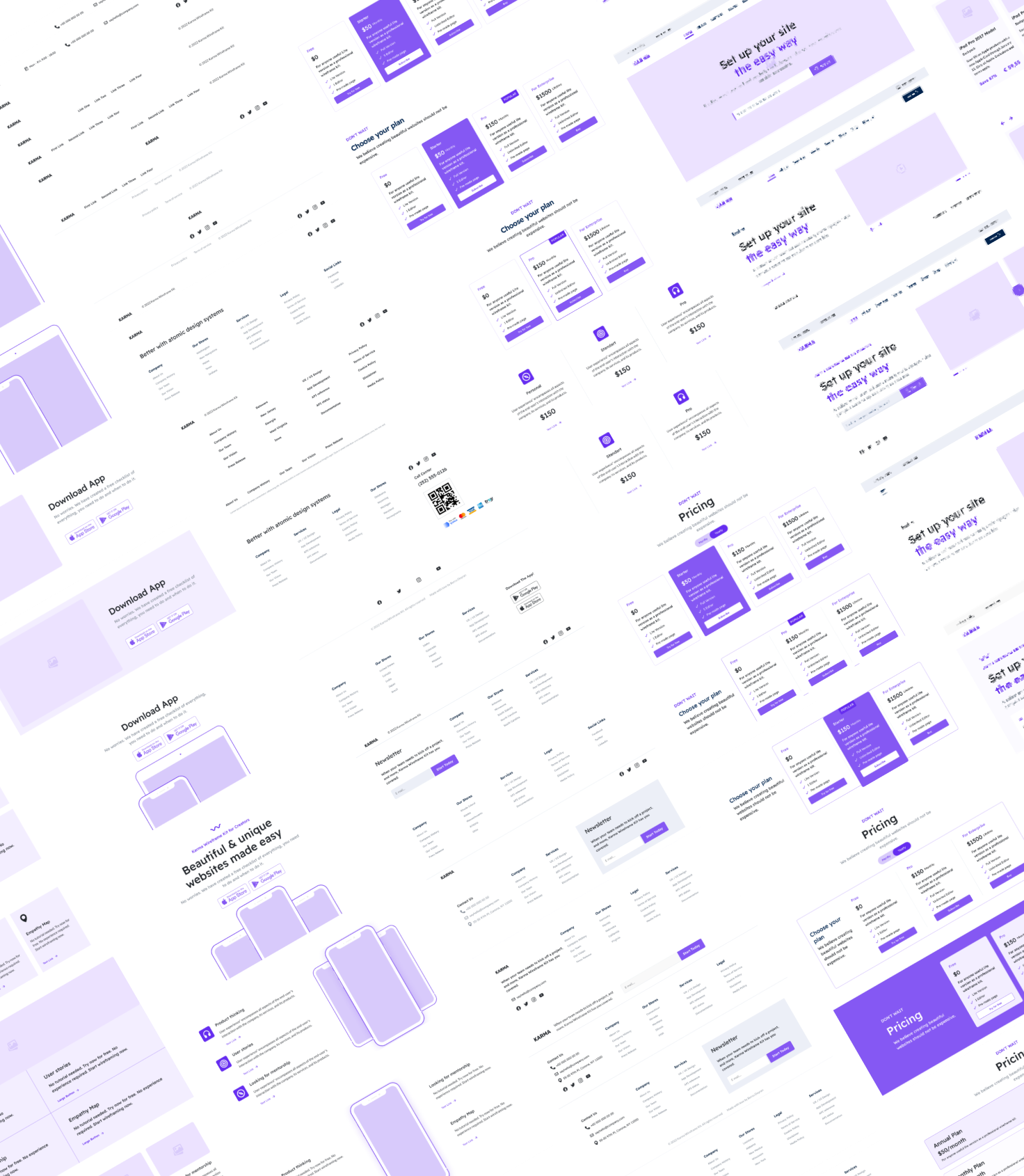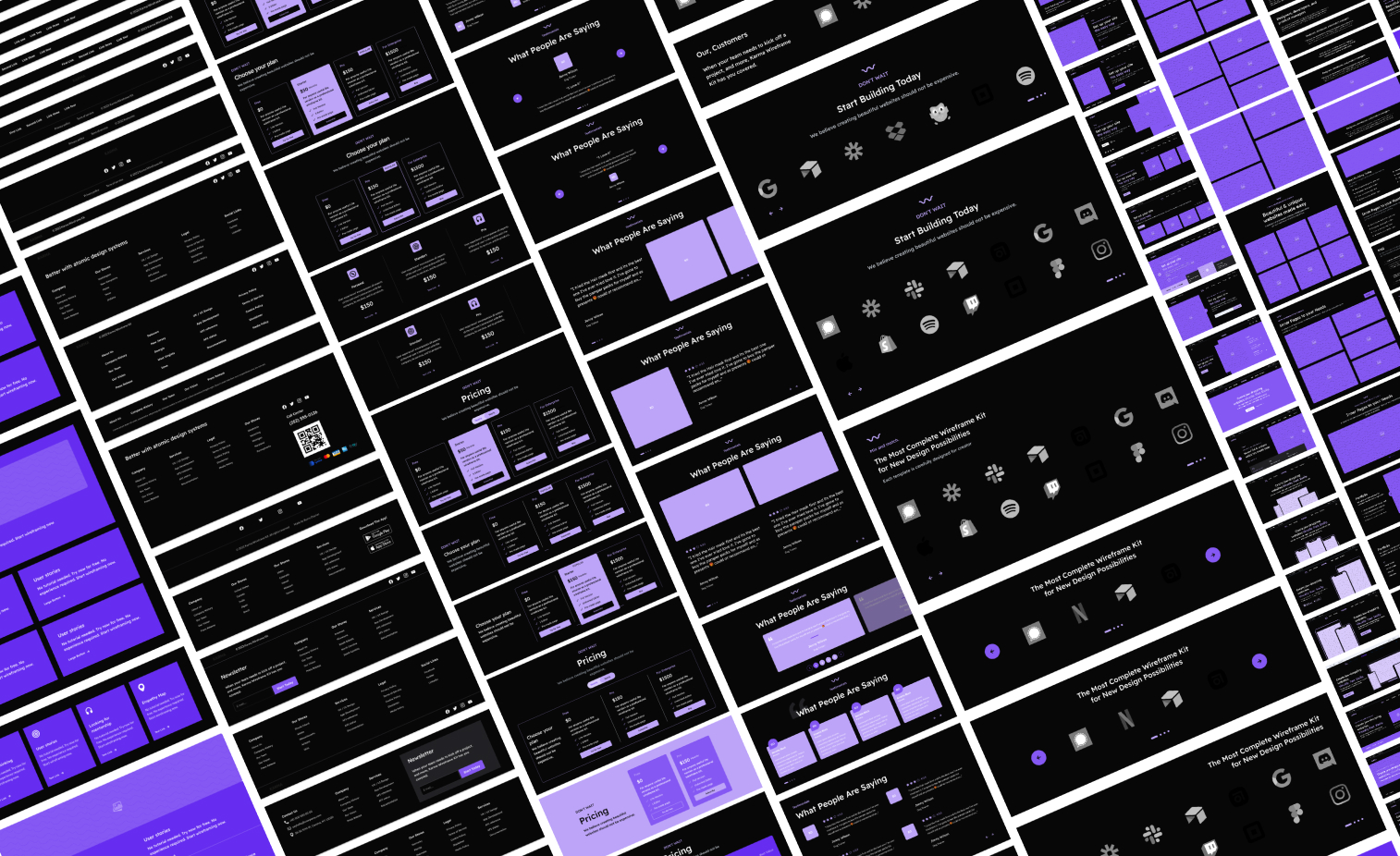 From ideas to functional prototypes in minutes
The key to efficient, rapid prototyping
Experience the convenience of Karma Wireframe Kit's streamlined design process, eliminating the need for manual wireframe creation. Bring your concepts to life in no time, thanks to our extensive library of ready-to-use components.
How it Works
Don't reinvent the wheel for every web project
A collection of practical and carefully crafted pages helps get your website up as quickly as possible.
Wireframe Kit for Figma
Discover the richness of Karma Wireframe Kit's extensive library
Delve into the impressive assortment of over 1,000 design blocks in Karma Wireframe Kit, encompassing 18 diverse categories, to ensure you have the perfect components for every aspect of your web design projects.
Browse Library Now
The Ultimate Wireframe Kit
Experience the power of Karma's cohesive design system
Leverage the strength of Karma Wireframe Kit's design system, featuring consistent design elements and style guides, to create seamless and visually harmonious web layouts that captivate your audience.
Get Started with Ease
Variants and auto layout 4.0
Effortless Navigation with Karma Wireframe Kit's Clear Structure
Navigate your design projects with ease thanks to Karma Wireframe Kit's well-organized, intuitive structure, allowing for the efficient location, customization, and implementation of design blocks in your web design projects.
Buy Now
Designers Love Karma
Explore how Karma Wireframe Kit has become an essential tool for designers, streamlining their workflows and elevating their design capabilities.
"Fantastic work"
Karma is based on hundreds of observed best practices, so you don't have to worry about customer experience.

Tolga Şahin
Sr. Ux Designer
"Huge library"
The best component-rich UI library I've ever used! It's incredible how many options it delivers.

Yucel Faruk Sahan
Maker of Landing Page FYI
"I love it"
Burcu is a great designer and did fantastic work again.

Mustafa Fırat
Sr. Ux Designer
"A comprehensive design work!"
Karma Wireframe Kit works in harmony with Figma's most creator-friendly features, providing excellent flexibility to designers.

Fatih Güner
Maker of Flow Wireframe Kit
Select the Perfect Option for Your Design Needs
Find the ideal pricing option tailored to your design requirements. Whether you need wireframe, UI resources, or both, Karma has you covered. Take advantage of our affordable pricing and enhance your design projects with Karma.
Karma UI Kit
1,200+ Customizable UI Components
Efficient Workflow & Responsive Design
Comprehensive Style Guide & Organized Layers
Figma-Optimized & Regular Updates
Detailed Documentation & Premium Support
Versatile Usage Across Industries
Get the UI Kit
Karma Wireframe Kit
1,000+ Wireframe Design Blocks
Time-Saving Pre-built Components
Fully Customizable & Organized Structure
Figma-Friendly & Responsive Layouts
Comprehensive Library & Easy Prototyping
Free Updates & Premium Support
Get the Wireframe Kit
Best Price
Karma Bundle: Wireframe + UI Kit
All Features of Karma Wireframe Kit
All Features of Karma UI Kit
Complete Design Toolkit for Web & UI Projects
Seamless Integration & Consistency
Save $19 by Purchasing the Bundle
One-Time Payment & Lifetime Access
Get the Bundle
Designers Also Love: Karma UI Kit
Complete Your Design Toolkit with Karma UI Kit
Expand your design possibilities by diving into the Karma UI Kit, featuring over 1,200 UI components for seamless web and app creation.
Explore Karma UI Kit Now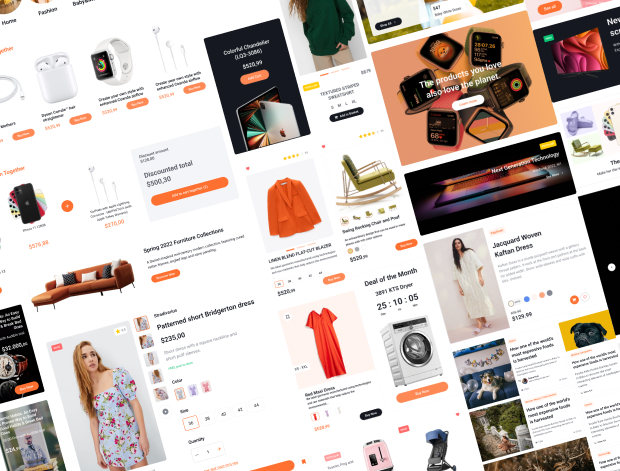 © 2023 Saparda Inc. | All rights reserved
Other Products